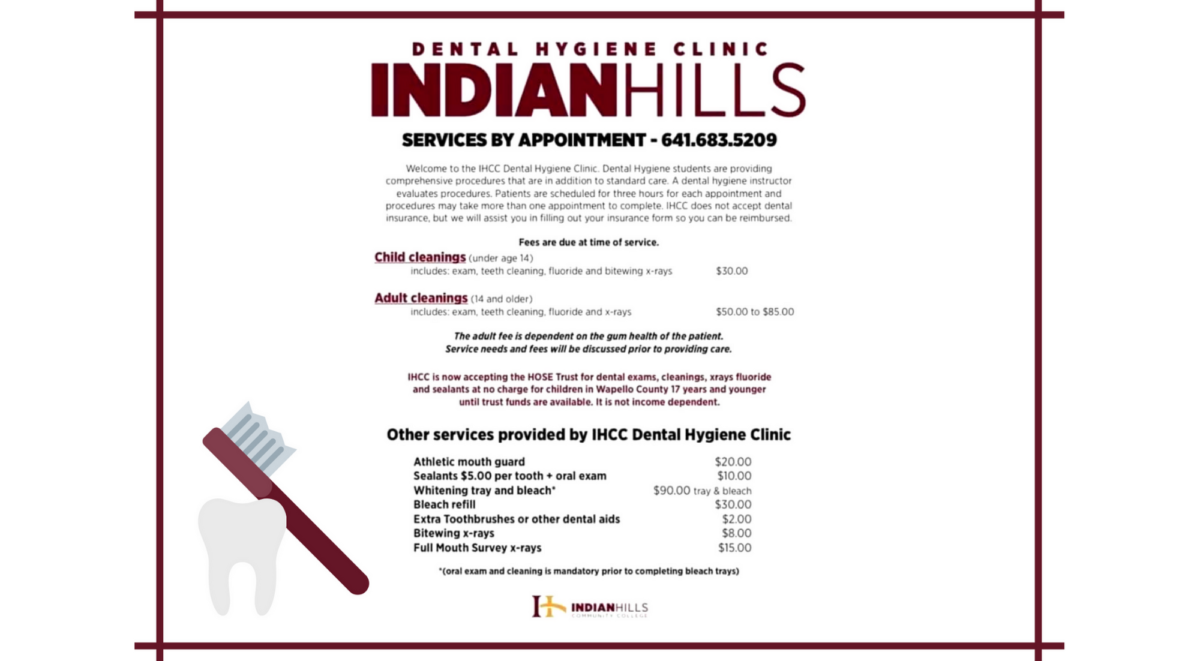 SERVICES BY APPOINTMENT. PHONE: 641.683.5209
Welcome to the IHCC Dental Hygiene Clinic Dental Hygiene students are providing comprehensive procedures that are in addition to standard care. A dental hygiene instructor evaluates procedures. Patients are scheduled for three hours for each appointment and procedures may take more than one appointment to complete. IHCC does not accept dental insurance, but we will assist you in filling out your insurance form so you can be reimbursed.
Fees are due at the time of service.
Child cleanings (under age 14) includes: exam, teeth cleaning, fluoride and bitewing X-rays $30.00
Adult cleanings (14 and older) includes: exam, teeth cleaning, fluoride and x-rays $50.00 to $85.00
The adult fee is dependent on the gum health of the patient.
Service needs and fees will be discussed prior to providing care.
IHCC is now accepting the HOSE Trust for dental exams, cleanings, xrays fluoride, and sealants at no charge for children in Wapello County 17 years and younger until trust funds are available. It is not income-dependent.

Other services provided by IHCC Dental Hygiene Clinic
An athletic mouth guard $20.00
Sealants $5.00 per tooth + oral exam $10.00
Whitening tray and bleach* $90.00 (tray & bleach)
Bleach refill $30.00
Extra Toothbrushes or other dental aids $2.00
Bitewing X-rays $8.00
Full Mouth Survey X-rays $15.00
(Oral exam and cleaning is mandatory prior to completing bleach trays)

Indian Hills Community College is providing dental health care at low prices. These services are made by appointment. To make your appointment call (641) 683 5209